Give Up The Control And Hire an Assistant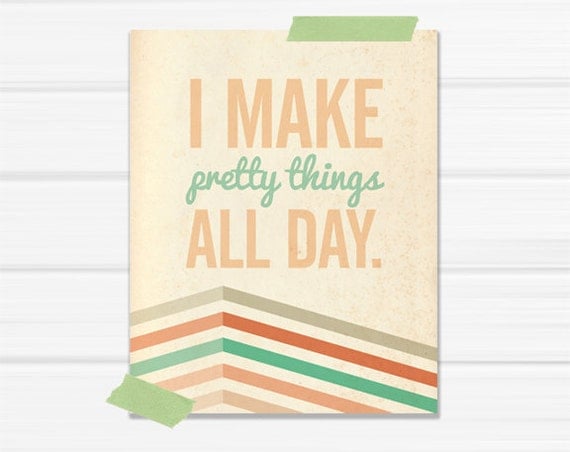 I Make Pretty Things All Day Print by Yellow Heart Art
When I started my journey through self-employment, I was sure of one thing: I would never hire an assistant. I was going to be wonder woman, doing it all no matter how overwhelmed I got. I would be on top of everything and nothing would fall behind.
Obviously I became an entrepreneur with some major rose-colored glasses.
A few months shy of a year into blogging, I told my husband it was time. The days of being proud that I was doing it all while I lost sleep and forgot what personal time was were over. The days where I spent dinner time eating and replying to emails were done. The days where I had lost the joy in my business and blog were too much, and it was time for them to get the boot, too. It was time for me to give up the control. I was terrified of letting go and hiring someone to help me.
I've been self-employed since October 2010 now and have had not one, but two assistants. The first one and I parted ways relatively quickly after she joined the team and realized it was just not meant to be. My current one has been with me since September 2011 and evolved from an unpaid intern to a paid assistant. She's also become one of my closest friends and someone I trust almost as much as my husband about business decisions. It was by far the best decision I have made for my business.
I'm sure many of you can relate to how I originally felt about hiring someone to help me run the business I had once only dreamed of running. Finding it hard to trust someone else with your financials, your product designs, your accounts. Thinking that you should be able to do it all, no matter how it affects you physically or emotionally. But remind yourself why you chose this path. Whether you're a blogger, a shop owner, or maybe both – why did you decide to do it?
Most likely because you're a creative person with the desire to share your passion with the world, I'll bet. And if you're not able to do that because your time has been consumed by mundane tasks that aren't feeding your creative outlet, why shouldn't you hire help? You're not letting go of your number one goal of sharing yourself or your creations with the world. You're taking on another set of hands to help you share more of yourself while they take care of the work that's getting in the way and preventing you from doing so.
By hiring someone to help you, you're still in control. You decide what they see or don't see. What they do or don't do. You're still the boss. You just get to delegate the tasks that you may not enjoy doing or are maybe too time consuming for you. If you're worried about them sharing your personal information (creative, business, or personal), have them sign a non-disclosure/confidentiality agreement – a legal form that restricts your information from being shared with third parties.
Remember that by deciding to reach out for assistance doesn't make you a failure. It doesn't mean that your blog or your business will no longer be yours. It doesn't mean that you're no longer the creative force behind it, either. All it means is that you're making sure that you're one of your top priorities and allowing someone to give you a hand when you need it so you don't want to bang your head against the wall on a daily basis.
It's a good thing, I promise.
Ashley is the creative force behind After Nine To Five, a blog and handmade shop. She has been self-employed since October 2010, making her living through various means such as graphic design, business consulting, life coaching, blogging, and handmade goods. You'll rarely find her without a camera, her Kindle, some kind of tea and her planner.
Ashley also co-owns the project RevolutionizeHer - a blog dedicated to encouraging and inspiring women to live the life they dream of living, especially through self-employment. Her hope is to inspire woman across the world to live life to it's fullest, be it through a handmade business or just finding their passion(s) and running with them.
Share on Facebook
Category: HANDMADE + CREATIVE BUSINESSTags: assistant/hiring