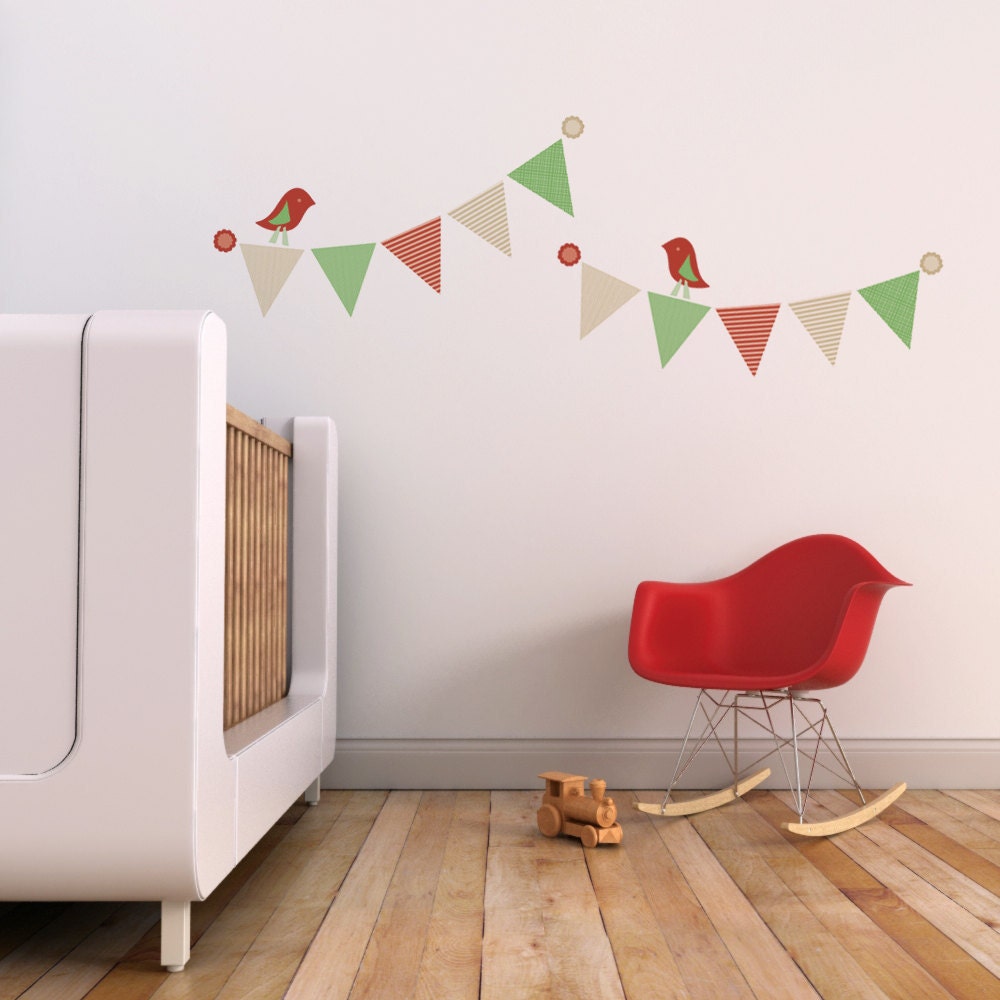 Pennants and Birds Wall Decal from Trendy Peas Decals
Are you frustrated by a lack of progress in your business? Do you struggle to get everything done? Working from home can be hard with young children around, but a few key changes can make all the difference. If you're building a creative business with kids, read on for our secrets for success.
Stop Multi-Tasking
Before you spit out your coffee (or slam your laptop shut) – I'm being serious here. Yes I know we ladies are very capable of doing umpteen things at once. Feeding the baby while checking emails, cooking dinner and taking telephone orders is par for the course for a multi-tasking mum! But while it might seem unavoidable, it can also be a fast-track route to exhaustion and stress.
Dedicating quality time to both work and family is crucial if you're serious about growing your business. Start by blocking out a few hours of time in your diary every week, and dedicating each slot to either family time or work. This might mean working while your kids are sleeping, or asking friends or family to help out for a couple of hours each week. Just do whatever it takes to make it happen – and make sure everyone knows how important this time is.
Plan your Time
Once you've scheduled those all-important work and family slots, decide in advance how you're going to make the most of your time with each. Plan specific activities and tasks, so you feel like you've really achieved (or enjoyed) something at the end of each session. Then try to get into the habit of focusing on the present moment, instead of living in two worlds at once.
Why? Because you'll be giving your work and your family – the attention they deserve. When it comes to your business – you'll be amazed at what can be achieved in a short spell of concentrated work. You'll be more productive and satisfied, so your customers will benefit too. Last but by no means least, your kids will get more out of their more quality time with Mum! Not having them crayon on the walls while you're distracted by Twitter on your iPhone is another benefit too….
Make Hay While the Sun Shines
Kids get sick. Child minders let you down. Dental appointments take three times longer than they should. And in my experience – when things go wrong, they happen all at once. Tempting as it can be to take a more relaxed approach when you're your own boss – it's best to make hay while the sun shines. Or in other words – buckle down while you have the chance!
I'm not suggesting for a second that you don't need downtime. Fun and relaxation are essential parts of the creative working week. But when you have young children and time is limited, it pays to make a little extra effort to stay ahead of the curve. Why? Because if things go wrong and the proverbial hits the fan, you'll kick yourself for spending hours on Pinterest instead of finishing that bespoke order off. Always focus on getting the most important tasks finished first – then you can relax.
Get Your Own Space
Sticky fingers and spilled drinks can wreak havoc with the most organised of schedules, if given half the chance! If you're trying to build a creative business with kids at home, make getting your own work space a priority. It doesn't have to be your own studio, or anywhere particularly grand. Even a desk in the spare room is better than having to clear the kitchen table every time you want to work.
Having somewhere of your own to get down to business is not only a practical consideration, but an important psychological one too. For me, one of the best things about having my own space is being able to surround myself with inspiring words, images and worksheets that help keep me motivated and on-track. The rest of the house might be overwhelmed by the happy chaos of family life, but this corner is all about me.
How do you handle working from home with kids around? Do you have any tips to share? We'd love to hear them – leave a comment below!

Claire Hughes - Make, Do & Sell
Claire Hughes is an online marketing consultant with over ten year's experience running campaigns for some of Europe's biggest brands. Proud to call herself an internet geek and home-working mum, she now focuses exclusively on working with creative entrepreneurs. You'll find Claire sharing free tips and advice on the Make, Do & Sell blog, as well as co-leading the Handmade Horizons marketing e-course. That's when she's not changing nappies or feeding her Pinterest addiction, of course…..
There's nothing Claire loves more than helping talented ladies overcome their marketing challenges and achieve their wildest dreams. Why not connect with her on Twitter and tell her all about yours?
♥ ♥ ♥ ♥ ♥
Share on Facebook