Pinterest Copycats: Flattering or Frustrating?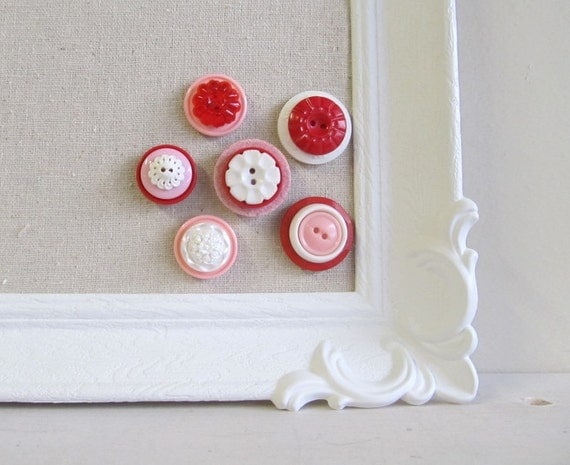 Push Pin Gift Set from Shugabee Lane
Unless you've lived under a rock for the past few months, you've likely heard about Pinterest and have probably starting using the site yourself. There has been a great deal of buzz in handmade circles recently about Pinterest users pinning images from online shops and labeling them as "DIY" or "I'm going to try this." Unfortunately, I saw an example of this trend a few days ago, and I can definitely see how frustrating it would be to handmade sellers.

I've found myself "liking" several rainbow-colored images on Pinterest lately, and this print from the Cherbert Etsy shop caught my eye the other day. I clicked through the pin to find the original source, and rather than leading to the Etsy shop, the pin led to a blog, whose author stated that she was going to try this idea as a DIY project. She did link to the Etsy listing, but the mere fact that she mentioned that she was going to DIY the idea made me a little sad.
Now that I've seen the trend firsthand, I've been thinking more and more about the dilemma that this causes for handmade sellers.
Is there really any way to protect the images of your creations from those who have no intentions of purchasing the item, but rather plan to try the idea themselves . . . as a DIY project? How do you deal with this? Do you consider Pinterest copycats flattering or frustrating?
I'm sure people have been "stealing" DIY ideas from online shops for some time now. There really is no way to completely protect any image that is available on the Internet. Unfortunately, the problem seems much more glaring now that Pinterest is on the scene. Do handmade sellers have any options to protect their ideas and hard work? Or must they just  grin and bear it?
Here are a few suggestions, and I'd love to hear your ideas too:

1. Consider watermarking your images.
I have read several articles that state the importance of including the full URL of your site (e.g.,www.yoursite.com), rather than just including a logo. I found some wonderful Photoshop (or Photoshop Elements) actions from Paint the Moon that allow you to quickly and easily apply a pretty watermark to your images.
2. Pin with the dollar sign.
This applies to items that you pin (sparingly) from your own shop, and especially on items that you feature from other people's shops. If you include a dollar sign ($) in the pin description, the image will include a diagonal  strip that includes the price. This will alert people to the fact that the item is for sale. If you click the "Pin It" button on an Etsy listing, the description is automatically created for you (including the price).
3. Determine not to pin items as DIY that someone has taken time and money to create. 
Encourage others in your circle (blog readers, team members, etc.) to do the same thing.
4. Pin images directly from the source.
This is crucial to protect the livelihood of many handmade sellers. The key is to pin the image from the permalink of the original source where the image appeared. I wrote an article about how to do this here: How to Be a Polite Pinterest Pinner. I must admit that pinning from the source takes a few more seconds of time, but it is essential to protect the person who originally created the item.
5. Get educated about copyright issues and spread the word. 
I have created a Pinterest board of various articles I've come across about Pinterest (best practices, copyright issues, etc.). If you know of an article that should be added to that board, please submit the URL in a comment below. I'd love to expand that board to make it as helpful as possible. (Pinterest Tips)
What ideas do you have about how to deal with Pinterest copycats? Have you tried any tactics to protect your images (and brand)? Or are you just thankful for the exposure that Pinterest has brought your way? I hope you'll share your thoughts and questions in the comments section. Let's get a great conversation going! What say you?
Share on Facebook
Category: HANDMADE + CREATIVE BUSINESSTags: pinterest