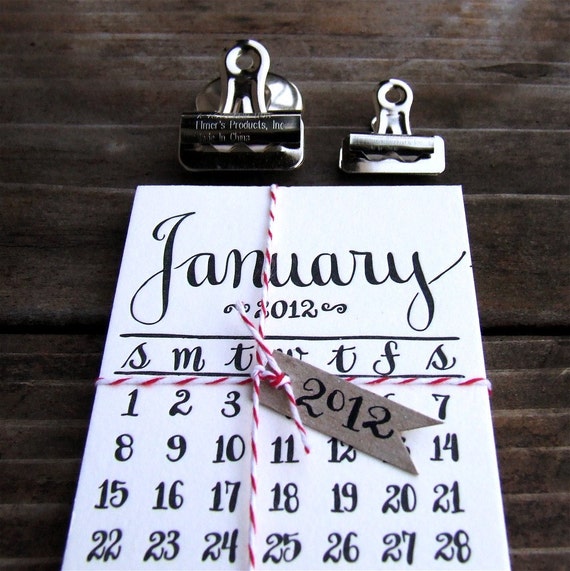 2012 Calendar from K is for Calligraphy
The start of the New Year is the perfect time to clarify some marketing misconceptions. Before you put together your marketing plan for the coming year you might want to check that you are not focusing your efforts on the following marketing myths.
1. Your products need to be cheap or no-one will buy.
Not true! Your target customers will buy your products because it solves an emotional or physical need for them. Price is usually only a factor if there are lots of similar products competing in the same niche. You need to show why your products are worth what you are charging by adding perceived value to your items. You can do this by focusing on quality, innovation and creativity but above all it must fill a need. People will pay more for something that provides great benefits even if it's more expensive than your competitors.
2. You need to make your one-person business appear bigger than it is.
Of course not! If your business is just you, be proud of it! Most people will not be put off spending with you if you are honest with them but they might be if you lie. It can be easy to fall into the trap of saying 'we' when it's just you but misleading people could cause problems later.
Some people do prefer to shop with bigger companies but this is usually to do with trust. Make sure you do all you can to put potential customers at ease. Explain who you are on your About Page and put up some photos so they know they are dealing with a real person. Link to your social media accounts so they can easily check the type of person you are. Also, make sure you have an easy way for them to contact you.
3. You need to reach a certain number of Twitter or Facebook followers or your business isn't successful.
This is one of the biggest misconceptions made by online businesses. Many think that you need to have hundreds and thousands of followers and will often get a number stuck in their mind of how many they will need before they have 'made it'. Concentrate on the followers you have already. These followers have already signed up to hear what you have to say, they want to feel valued or they will unfollow you. Make sure you interact with them and go about your business regardless of the number of followers you have. When it comes to social media remember 'quality over quantity'. People follow you because of your content. If all your tweets are asking for more followers yet you ignore the ones you have, you may as well not bother.
4. If you sell online you only have to do online marketing
No! Don't forget other methods of marketing including promoting yourself in person at networking events, craft shows, trade fairs or pitching bloggers. There are a number of marketing activities you can do to promote yourself, the key is finding out which ones are best for you and your target market. Your potential customers may not be on Twitter or Facebook even if they shop online. Distributing flyers, leaflets and getting features in magazines are still effective and should not be forgotten.
5. Social media marketing gets quick results
It takes time to build up a following, even longer to start seeing an increase in sales. Instead of concentrating on what you want the end result to be concentrate on providing great content and conversation to the people who have taken the time to connect with you. Social media is not a quick fix. Yes it can help drive traffic to your shop or blog. Yes it can raise awareness of your brand and products but like everything it takes time. Social media is not point of sale. Very rarely will someone click your link and buy straight away on impulse. People are there to be social, to interact, and discover new things for a later date, not to buy things immediately. Instead, consider social media as a platform to converse with others, introduce yourself, make new friends and network. In time, your network will grow and with it the opportunities.
Passionate about helping others, creating great brands and successful businesses, Isa Maria Seminega graduated with a 1st class honours degree in Design Management. Her marketing experience was gained working with top UK brands such as Virgin, Financial Times and NHS Direct.
In 2009 after the birth of her first child, she was made redundant on maternity leave. Taking the opportunity to finally become her own boss, Isa started Noisette Marketing, a full service creative agency using her marketing expertise to bridge the gap between business and design.
As well as running Noisette Marketing she is part of the UK Handmade marketing team and writes for the UK Handmade magazine and blog. In October 2010 she founded Noisette Kids, selling her original illustrations and personalised children's stationery and is already gaining publicity for her new venture.
With a meticulous eye for detail, a passion for ideas and an astute business woman, Isa now runs workshops for entrepreneurs and speaks at a variety of events on marketing and creativity. To enquire about booking Isa for a speaking engagement contact isa at noisettemarketing.com or use our contact form.
Share on Facebook